Getting Started - Welcome to Merge EDU

Hello and welcome to Merge EDU, a hands-on digital learning platform that helps students learn science and STEM effectively using 3D objects and simulations they can touch, hold and interact with! Used in classrooms and in homes, Merge EDU engages kids with hands-on activities that allow them to learn and explore in amazing new ways.
With over 1,000 digital teaching aids, 100+ science simulations, and globe activities that allow students to visualize NASA and NOAA satellite and sensor date, Merge EDU is an essential tool for science and STEM learning.
Overview of the Components of Merge EDU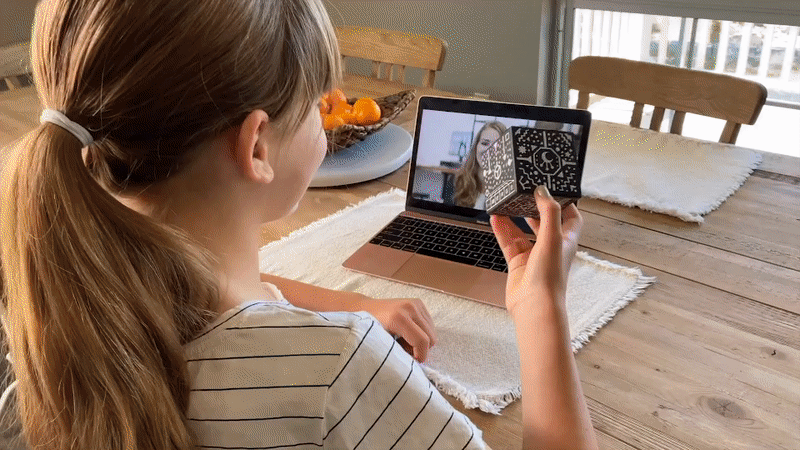 All the components of Merge EDU work together to give you access to everything you need to be successful teaching science & STEM with mixed reality. In this article, we'll share an overview of all the parts of Merge EDU, and show you how to sign up for a free trial.
Overview of major components
Signing up for a Free Trial Merge EDU
The Merge Cube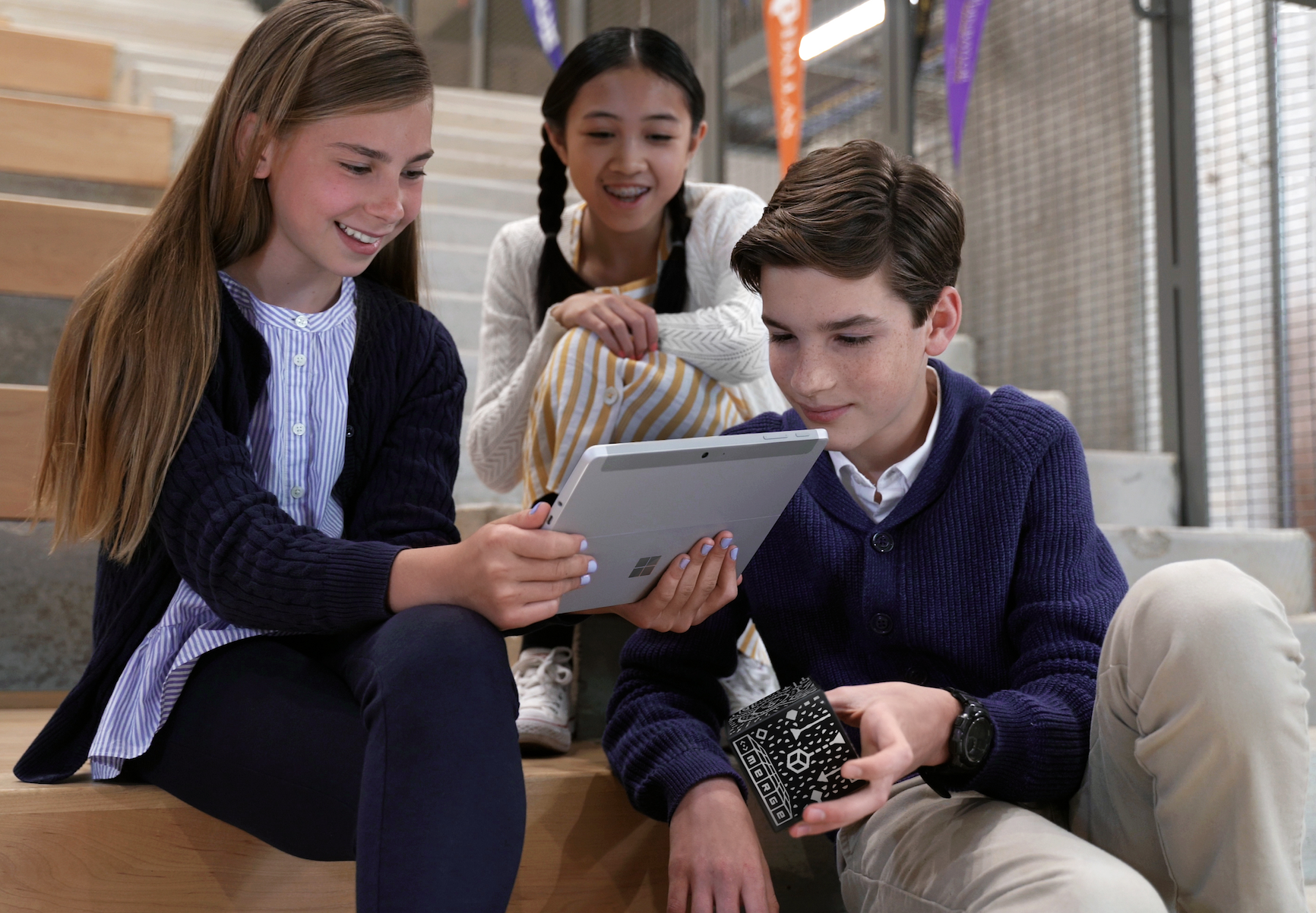 The Merge Cube lets you hold digital 3D objects, enabling an entirely new way to learn and interact with the digital world. With the Merge Cube and Merge EDU, you can explore a galaxy in the palm of your hand, hold fossils and ancient artifacts, explore a DNA molecule, investigate the Earth's core, dissect a virtual frog, share your own 3D creations, and much more!
Digital Teaching Aids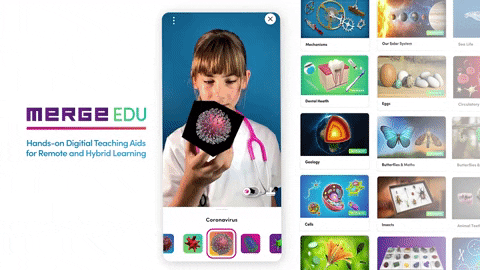 Merge EDU contains an extensive library of true-to-life digital teaching aids. You can hold and inspect each of the objects in a natural and intuitive way, they're organized into collections that will fit nicely into your lessons, and they're just as effective as traditional teaching aids for learning.
Students can also create their own 3D objects to hold using Merge EDU.
Globe Activities

Merge HoloGlobe brings real-time NOAA and NASA satellite data and simulations to the Merge Cube, providing stunning views of the Earth and its many processes and systems into the palm of your hand!
HoloGlobe is a hands-on resource for K-12 students, educators, and citizen scientists who want to learn more about Earth using real scientific data, including rainfall, cloud coverage, ocean and land temperature, wildfires, snowfall, and more all over the world.
Science Simulations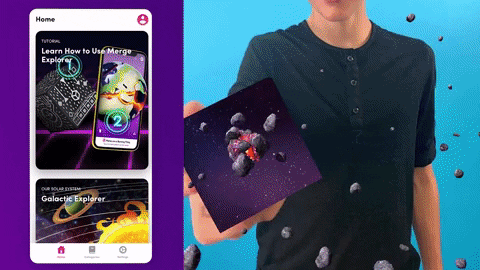 Explore the Merge EDU interactive science simulations with hybrid activity plans and quizzes that are aligned with science standards. The simulations are designed to teach science concepts using powerful visuals and hands-on interactions, helping students understand complex topics more easily and remember what they learned longer.
Quizzes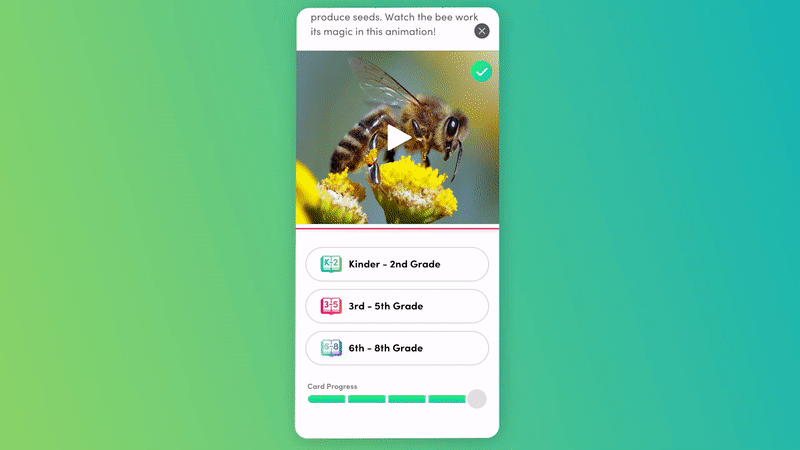 Merge Explorer contains integrated quizzes, which are organized into grade levels that students can complete after experiencing all the simulations within each topic card. These formative assessments will help students monitor their own understanding of the subject matter as they continue through the simulations, as well as help teachers keep track of their students' progress.
Activity Plans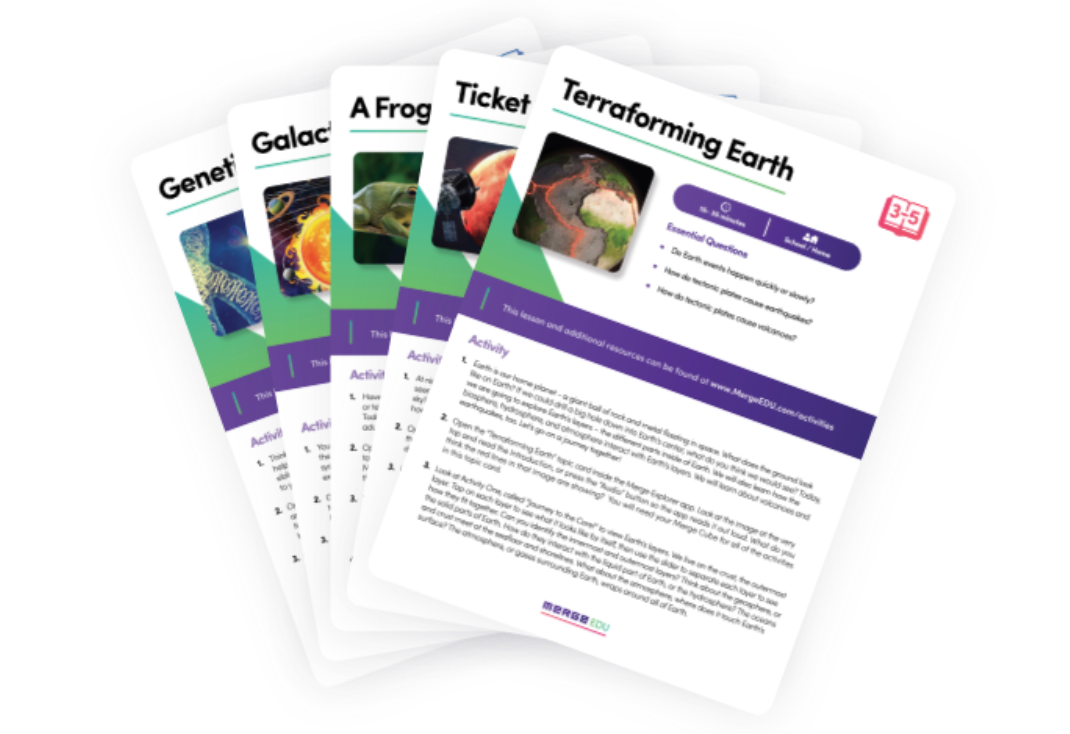 Merge EDU's standards-aligned activities guide students through every simulation and include step-by-step instructions for teacher-led or student-led instruction both in the classroom or remotely from home. These easy-to-follow activity plans will help your students gain key knowledge while engaged in learning.
STEM Projects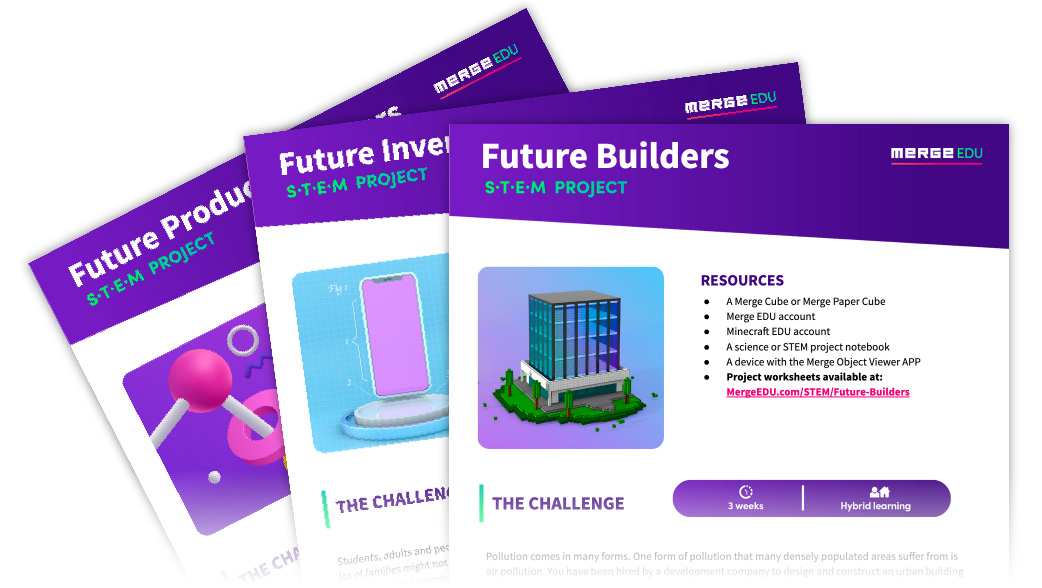 Merge EDU also offers STEM Projects to provide hands-on projects for your students to complete both in the classroom and while remote learning from home. Each project focuses on a different future-ready skill and follows the engineering design process so students will continue to build their expertise.
3D Uploader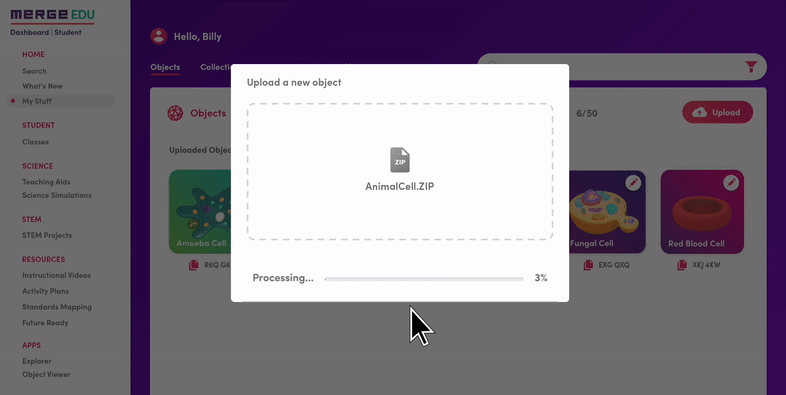 The Merge Uploader is a powerful component of Merge EDU, and it's located on the Merge Dashboard. It allows students to visualize their own 3D objects in the Object Viewer app.
When students can visualize their own 3D creations on the Merge Cube, it makes it easy for them to inspect their objects up close from all angles, and to easily share with others for feedback. It also allows for rapid iteration while developing 3D prototypes, and can help save time and materials when you're 3D printing.
Merge Dashboard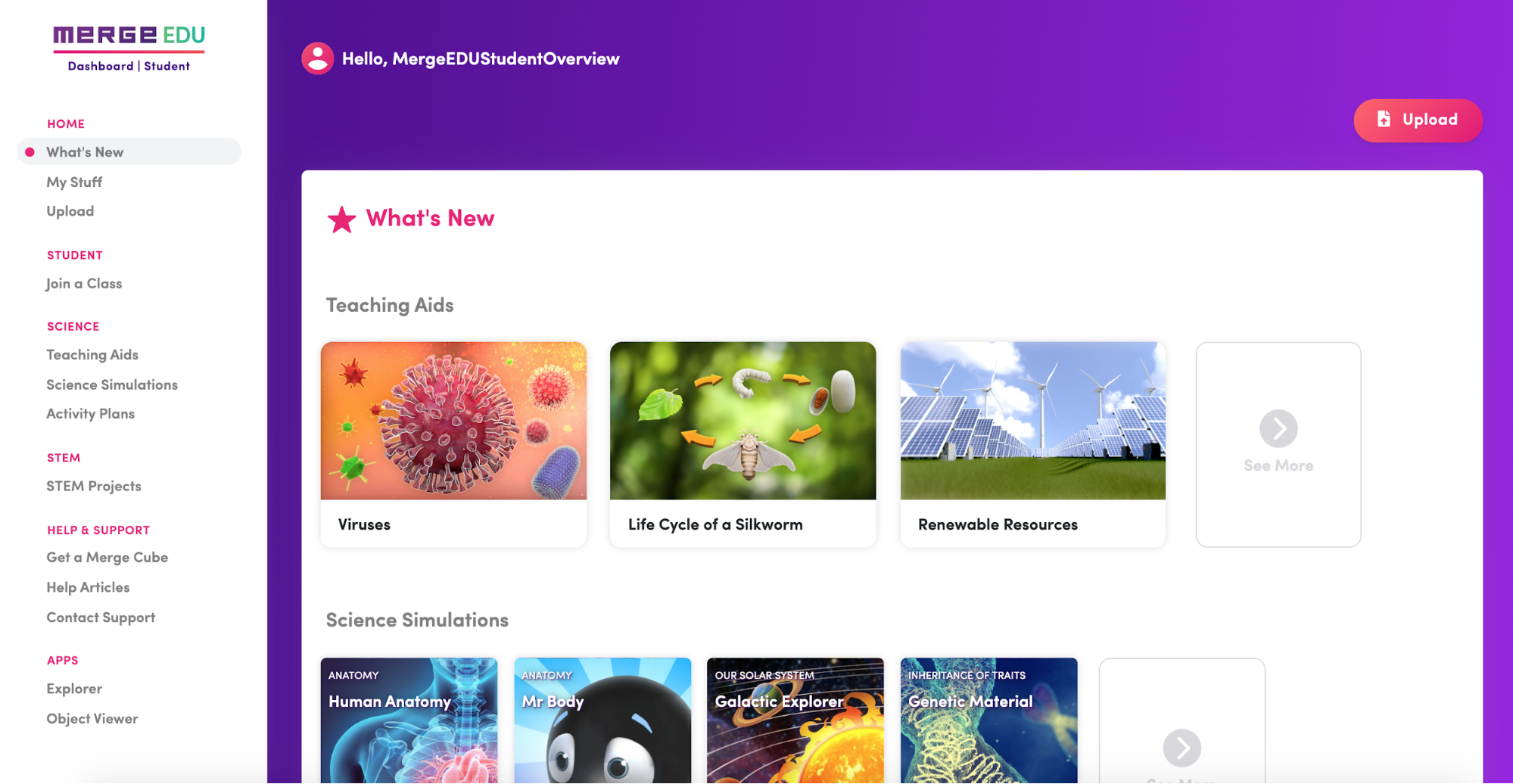 The Merge Dashboard allows teachers to create classes, add students, and track student progress. The Dashboard also provides a catalog of all of the digital teaching aids and science simulations located in our apps, along with the activity plans and STEM project documents. Share links are provided on each page, making it easy to get the whole class in the same lesson right away.
Teacher Resources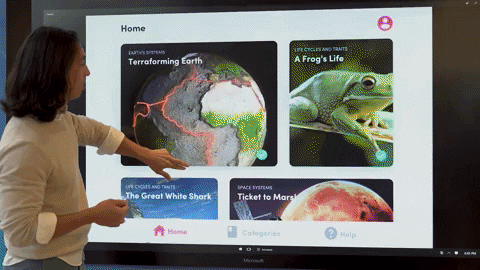 The Merge EDU Platform gives teachers access to a variety of resources, including help articles (like this one!), tutorials, activity plans, STEM projects, and more. We also provide best practices and troubleshooting tips so you have access to everything you need to teach science and STEM with Merge.
Signing Up for a Merge EDU Free Trial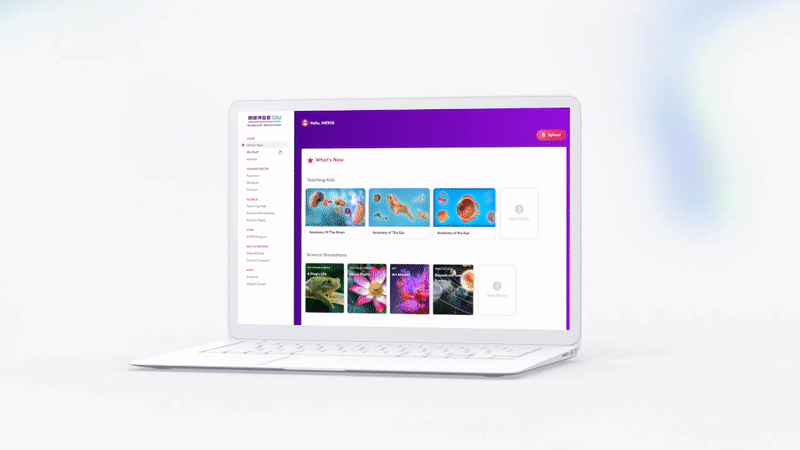 Now that you've learned about the major components of Merge EDU, it's time to try it for yourself! Simply go to mergeedu.com and select "Start My Free Trial." You'll get access to the full Merge EDU Platform, as well as personalized support and instructional material to help you make the most of your trial.

All you need to get started is a Merge Account, a Merge Cube and the Merge EDU apps!

We hope you have a good understanding of what the Merge EDU Platform is and how it can help your students learn science and master STEM, while giving you the tools and resources to be successful integrating it into your lessons! Be sure to read through our other help articles to dive deeper into step-by-step instructions and other helpful information.
Have fun exploring with Merge!
Up Next: