Using Hands-on Digital Teaching aids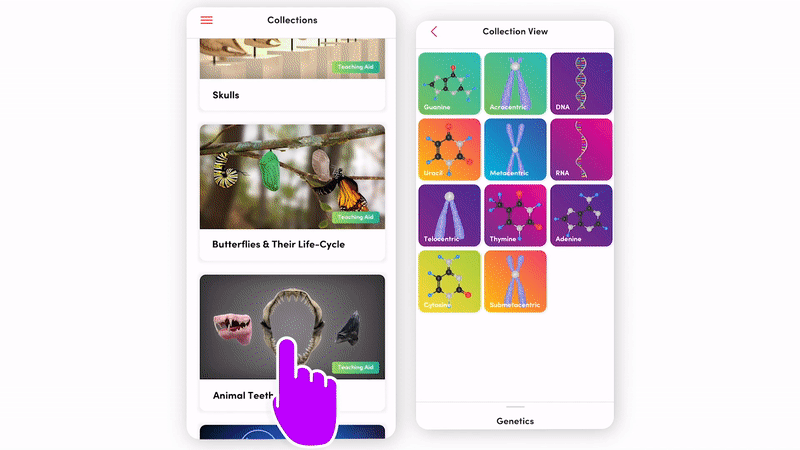 Merge EDU provides the only viable alternative to physical teaching aids. There are over 1,000 true-to-life digital teaching aids inside Merge Object Viewer, which is equivalent to thousands of dollars in supplies for every student, and they're just as effective as real physical models for learning. With Merge EDU, every student can access teaching aids that help them learn science and STEM concepts, anywhere.
In this article, we will introduce you to the steps needed to familiarize yourself with digital teaching aids, in order to use them effectively in your class.
Signing in to the Object Viewer app
Browsing the collections of teaching aids
Holding and interacting with digital teaching aids
Stamping objects into the real world
Teaching a lesson
Sharing the experience
When you're ready to try it yourself, just follow these steps:
Step 1
Sign in to Object Viewer to unlock 1,000+ true to life, hands-on digital teaching aids.
If you need help signing in, click here.
Step 2
Browse the collections of teaching aids and choose a collection that aligns with your unit of study. You'll notice they're organized by topic, which should fit nicely into your lessons. You can also browse and share teaching aids on the Merge Dashboard.
Step 3
Hold and interact with digital teaching aids by pointing your device at the Merge Cube, and watch it transform. Holding digital objects is not only engaging, but students will learn by inspecting, studying, and comparing them in a natural and intuitive way—just like they were holding the real, physical object.
Click here to learn more about holding digital objects.


Step 4
Stamp objects into the real world by tapping the "stamp" icon. You can stamp multiple objects in the same space, which is great for comparing and contrasting. You can switch to world mode to place larger objects in the room, and walk around them to inspect them as if they were really there.
Click here to learn more about the Stamp Tool.
Step 5
Teach a lesson based on your classroom setup and teaching style, whether you are teaching remotely, working in socially distanced classrooms, or have 1:1 devices.
Learn more about different types of lessons.
Step 6
Share the Experience from the Merge Dashboard by tapping the "share" button on a specific object or object collection, then choose an option. When a user taps the link, it will automatically open the corresponding object or collection from within the app.
You can learn more about sharing Digital Teaching aids here.

Now that you've learned how to use the digital teaching aids inside Merge Object Viewer, you can help your students understand complex concepts more easily in the classroom and in remote learning!