How to Share Your Collections

Merge EDU makes it easy to share custom collections with others. Creating and sharing your own custom collections gives you the ability to teach virtually any concept, as well as the ability to easily share collections of your own 3D models with others.
Tip: To learn how to create your own collection, click here
In this article, you will learn how to share your own collections.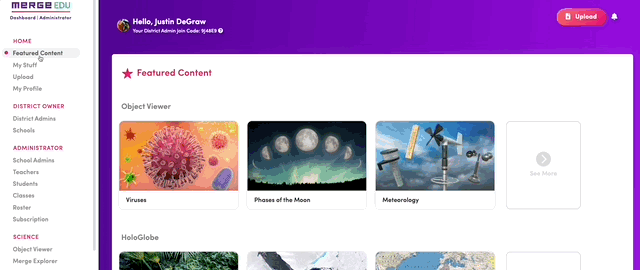 Sharing a Collection Link
Visit

https://dashboard.mergeedu.com/

and sign in to your Merge Account.





Select "

My Stuff"

under "Home" on the left-side Navigation Menu, then tap the

"Collections".


Select the Collection you want to share.



Tap

"Share Options"

then select

"Copy Link" or "Print QR Code."



Share the link using email or your classroom management tool, or print or screencast the QR Code.

Now that you've learned how to share your own collections, you can share whole groups of objects at the same time. We hope you'll find many ways to use custom collections in your classroom this year!
Check out this article on how to use Object and Collection Codes.