Effectiveness of Digital Teaching Aids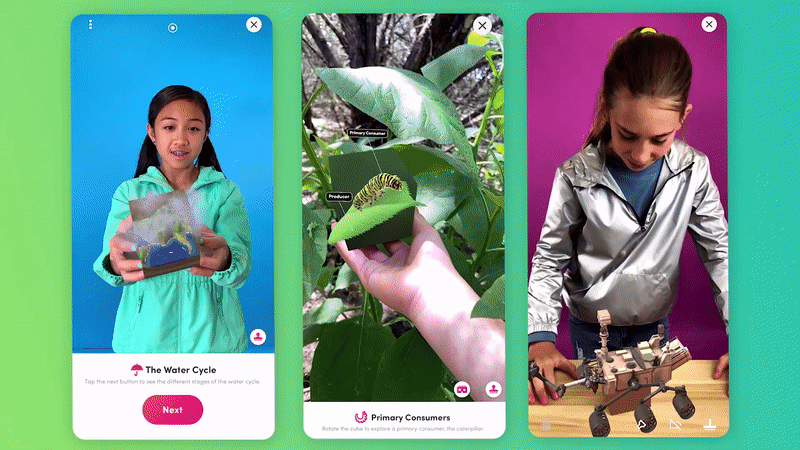 Technology has always been used in education as a means for teachers to provide the best educational experiences for their students.
Merge has harnessed some of the most cutting-edge spatial computing technology to put true-to-life, digital teaching aids and simulations into students' hands for learning. These tools are amazing alternatives to physical teaching aids for science and STEM, and can be used in remote and in-person learning.
The studies linked below show just how effective this technology can be on student engagement and learning outcomes. Read the studies below to learn more.
Merge EDU and Jersey City Public Schools Case Study
Jersey City Public Schools, the second largest school district in New Jersey, partnered with Merge for a case study that illustrates how innovative leaders can unlock the power of Augmented Reality (AR) in their districts.
The teachers included in the program found that when using Merge EDU, students were immediately engaged in the content, they were communicating and collaborating with each other, the overall excitement of the students was clear, and follow-up assessments showed that learning had taken place.
Read more about the case study here
Augmented-Reality Enhanced Anatomy Learning (A-REAL): Assessing the utility of 3D holographic models for anatomy education
In this pilot study, mobile-based AR was as effective as PTP (Peer Teaching Program) in acquiring short-term learning and has the potential to be used for anatomy education to simulate hands-on laboratory time.
As anatomy lab hours have been decreased across medical school curricula, there is opportunity for Augmented Reality (AR) to emerge as an effective learning tool. In addition to live demonstrations such as those provided through the Peer Teaching Program (PTP), AR technology can provide 3-D realistic anatomic imaging that engages visuospatial skills and can be accessed remotely, The goal of this study is to provide an assessment of AR holograms as an educational intervention for anatomy learning.
Pre-Service Elementary Teachers Use Augmented Reality to Learn about Force and Motion
David Rosegrant, Devan Patel, & Rongkai Guo from the College of Education at the University of South Florida in St. Petersburg piloted the Merge Explorer app with pre-service elementary school teachers to assess the usability of the application, learning gains in content knowledge, and willingness to use the app in their future classroom. We found they were extremely receptive to the application, learned from it, and would implement it in the future.
Read more about the study here.
Structural Chemistry 2.0- Combining Augmented Reality and 3D Online Models
Jonas R. Schmid, Moritz J. Ernst, and Günther Thiele found that implementing AR with the Merge Cube for 3D representations provides "enhanced individual learning and deeper understanding of complex concepts," and that students can benefit from AR with current widely available hardware like the Merge Cube.
Read more about the study here.
Digital Worlds and Transformative Learning: Google Expeditions, Google Arts and Culture, and the Merge Cube
Jasmin Bey Cowin, Ed.D. writes that the use of AR digital teaching aids helps teachers find alternative means of providing hands-on learning in science, technology, engineering, and mathematics (STEM) subjects with a deepening of students' epistemic and procedural knowledge. In response to current health guidelines recommending that objects not be physically shared in classes, thereby limiting students' hands-on experiences in STEM projects, Merge Cube has released unique AR tools that allow users to hold digital 3D objects, including "rocks, minerals, animal teeth and skulls, cells, and more that cover a wide range of science topics" (eSchool News Staff, 2020, para. 6). Merge offers a curated and robust selection of digital teaching aids for every student, with multisensory, interactive simulations and engaging activities for remote or in-class use (Learn Science-Master STEM, 2020).
Read more about the article here.
Feasibility Study of a Solar System learning Media based on Merge Cube Augmented Reality to Embedding Problem Solving Skills
Authors Taufiq, Nuswowati, and Widiyatmoko outline their research on the feasibility of using Augmented Reality in science learning activities directed towards teaching students problem solving skills. This research study investigates the solar system topic card, Galactic Explorer, in the Merge Explorer app, and how effective it is in embedding problem solving skills in students. The three validations it was judged on reached the "very feasible" criteria, with the average percentage of the validation score being 83.33%. It was concluded that the learning material of the solar system based on Merge Cube Augmented Reality (AR) was feasible to embed problem solving skills in students.
Read more about the study here.
A Mobile Augmented Reality App for Biomedical Research and Education
Authors Zhang, Cruz, McCarthy, and Hurt implemented a mobile application for 3D visualization of biological structures in AR using the Merge Cube. They have found that, because the Merge Cube allows the user to manipulate the virtual object with their hands, 3D manipulation of these models in AR provides a novel and convenient method for researchers and students to communicate and learn about structural and functional features of biomolecules and viruses. Demonstrations of the app thus far have received positive feedback (especially from hundreds of users including teachers, students and researchers during 2018 US Science and Engineering Festival), and more extensive user testing is underway with a small number of NIAID research staff.
Read more about the study here.
Use of Tools and Services of Cloud-Based Systems in Teachers' Training and Professional Development: Aspect of Augmented Reality
[Article in Russian] This article reveals the aspect of using augmented reality (AR) as a means of a cloud-based open education and science system. The author, Svitlana Lytvynova, considered the issue of the lack of high-quality digital content and the use of AR-objects, implemented using the Merge Cube technology, in pedagogical practice. The cloud-based system of using Merge Cube for learning is described, the stages of using Merge Cube in the educational process, the criteria for the quality of AR-content (correspondence of virtual additions to the content of the lesson or the topic being studied; sound effects emphasize artistic or other meaning; video fragments demonstrate processes, events or video instructions by content; the process of playing AR objects is simple, intuitive; the process of playing AR is technically stable; the text font is dynamic; 3D images are clear; AR objects are reproduced in various operating systems).
Read more about the study here.
Effects of Using Augmented Reality (AR) in Visualizing a Dynamic Particle Model
In this paper, authors Probst, Fetzer, Lukas, and Huwer discuss the role of augmented reality (AR) as a tool in visualizing graphical representation of the particle's movements. Interactive and dynamic 3D models of the undifferentiated particle model of the physical states were projected into reality on a three‐dimensional cube (merge cube). In contrast to classic media such as textbooks, foils, worksheets or films, dynamic processes (at the particle level) can be used with real 3D models wherever they are needed in the classroom. The influence of augmented reality (AR) in this teaching‐learning setting was examined in terms of motivation, school self‐efficacy and cognition in an eighth grade of a secondary school with an intervention study in a pre‐post control group design. The results suggest that AR has positive effects on these aspects of learning.
Read more about the study here.
Study of the Applicability Level of Merge Cube Augmented Reality Media on Junior High School Science Teachers
Authors Muhamad Taufiq, Murbangun Nuswowati, and Arif Widiyatmoko conducted this study to determine the level of applicability of science learning media based on Merge Cube AR to users, especially junior high school science teachers. The research method was carried out through a descriptive survey after testing the use of science learning media based on Merge Cube Augmented Reality. The respondents of this research were 41 teachers from 13 different junior high schools. The analysis data showed that respondents were very confident of being able to apply Merge Cube AR media in science learning and the percentage of applicability level in this description reached 87.8%. The results of the analysis also show that teachers strongly believe that the Merge Cube helps them deliver science learning activities in a more effective way.
Read more about the study here.
Meet the Duo Researching the Application of Augmented Reality Technology for Improved Patient Care and Radiology Education
Drs. Courtier and Laguna worked together in developing Merge Cube-compatible AR models used in clinical and research settings. In 2020, they completed a study with University of California San Francisco Medical Students in small group review sessions. When comparing the pre- and post-review test scores of radiology students that used real human cadavers to study, and another group who used AR objects on the Merge Cube to study, Dr. Courtier found there was "no statistically significant difference in test scores between the groups."
Read more about the study here.

Using the hands-on digital teaching aids and interactive simulations in Merge EDU, students will be engaged in active learning vs. passive observation, abstract and complex concepts will become concrete, and students will be able to remember what they learned for longer because the learning was a multi-sensory experience.
Now that you've learned how Merge EDU can help your students learn complex science and STEM concepts, you can take a look at this article showing you how to find Merge EDU funding for your classroom, or take a look at additional research on how AR/VR technology can benefit student learning.