How to Renew your Merge EDU Subscription

Are you ready to renew your Merge EDU for another month or year? Excellent! This article will help you with the next steps.
For Individual Subscriptions
If you purchased an individual monthly or annual subscription to the Merge EDU Platform inside the apps, that subscription will renew automatically. If you would like to continue your subscription, great! It will automatically renew via whichever app store you purchased it from.
If your Individual Subscription ended that was not part of an in-app-purchase (for example, if you had a 3 month subscription with an activation code), and you would like to renew, you can easily renew your subscription in any of the Merge EDU apps via an in-app-purchase.
Read this help article for more information on purchasing an individual subscription to Merge EDU.
For Schools or Organizations
Schools and organizations that have purchased Merge EDU can renew following the steps below. For any questions on the renewal process, please contact us at sales@mergeedu.com.
Step 1. Check your Subscription end date
The first thing you'll want to know is when your subscription is ending, so you'll know when you will need to purchase a renewal. To see the end date of your subscription:
Sign into the Administrator account in the Merge EDU Dashboard (

dashboard.mergeedu.com

)

Tap "Subscription" under "Administrator" on the menu

You will see your subscription type, as well as that subscription's expiration date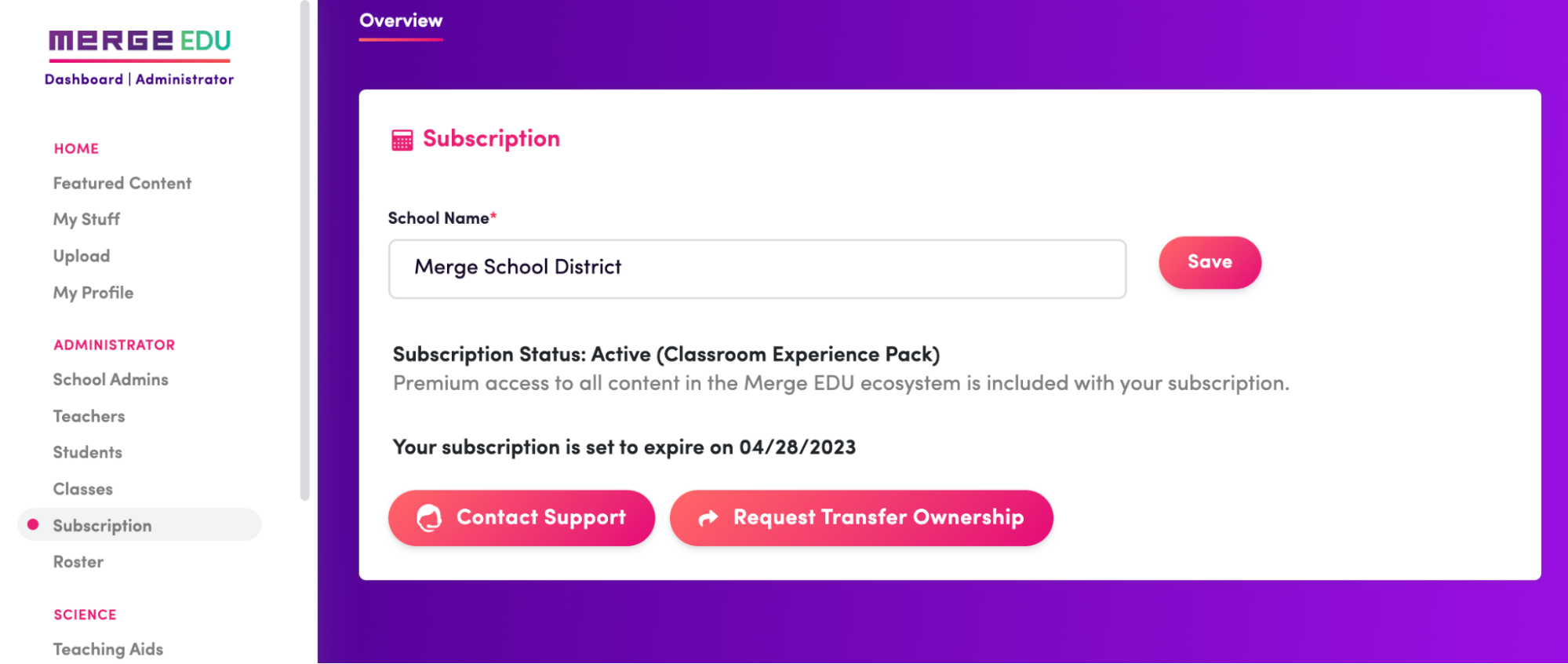 2. Request a Quote for Merge EDU
To receive a quote, fill out this Quote Request Form and provide the following information:
Information for billing, delivery and taxes:
Name of the entity that will be making the purchase (such as the district or school)

Billing address for the entity that will be making the purchase

Delivery address for Merge Cubes and/or Merge AR/VR Headsets

Tax exemption information

VAT number, if applicable

Your preferred method of payment payment (see section below)
Quantities and subscription lengths for the products you would like to purchase:
Number of Schoolwide licenses and length of term (1, 2 or 3 years)

Number of Lab licenses and length of term (1, 2 or 3 years)

Number of Merge Cubes

Number of Merge AR/VR Headsets

Number of 90-minute virtual training sessions

Number of onsite professional development training days
If you need assistance, feel free to email sales@mergeedu.com so we can help!
Step 3. Send in a Purchase Order
Once you have a quote for your renewal, send in a purchase order to us via Orders@mergeedu.com. Please also attach the formal quote that was provided.
Step 4. Await the Confirmation Email
Once your purchase order is received, your onboarding specialist will renew or reactivate your subscription and send a confirmation email.
If there have been changes to your subscription plan or if you need a refresher, you can schedule a call with your Onboarding Specialist. To do this, simply email success@mergeedu.com and let us know.

Welcome back to Merge EDU! We're so excited you've decided to renew your subscription to provide your students with innovative tools for science and STEM, and we are here to help every step of the way.