Science Standards Mapping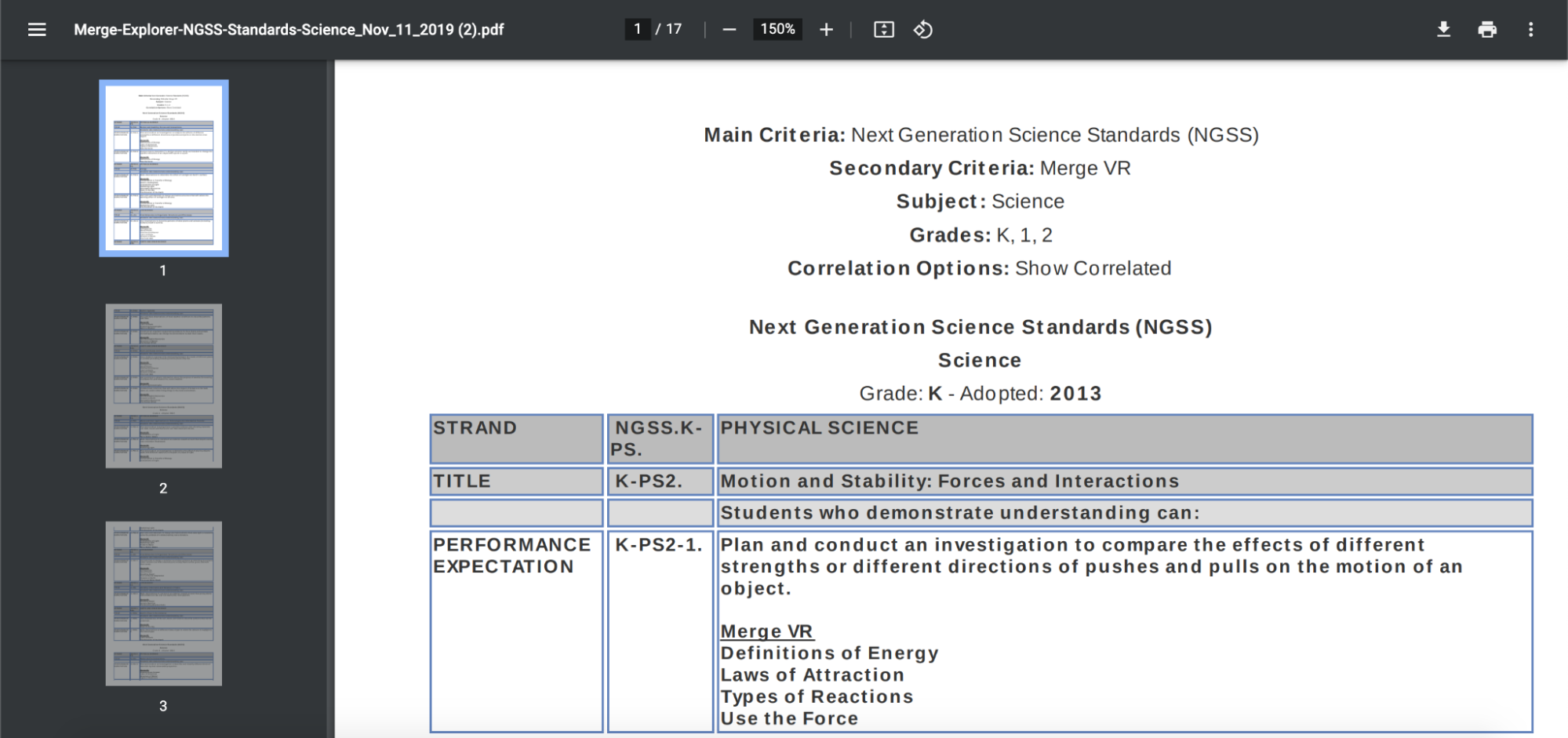 The science simulations inside Merge EDU align with the Next Generation Science Standards (NGSS), the ISTE Standards for Students, and individual state science standards for all 50 US states and Washington, D.C.
In addition, Merge Explorer is also aligned to the science standards for many areas in Australia, Canada, and the UK.
In this article, we'll cover all of the standards the Merge Explorer is aligned to, as well as how to use the standards documents:

US National Standards
Individual State Standards (USA)
International Science Standards
How to use Standards Documents
U.S. National Standards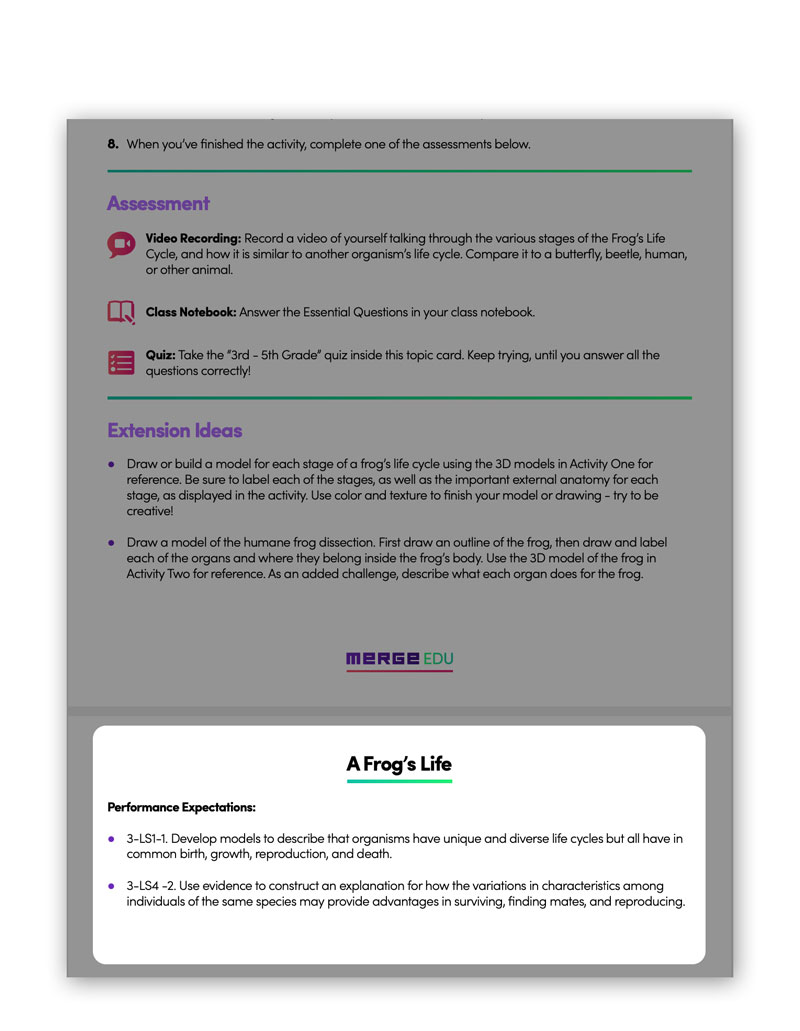 Individual State Standards (USA)
| | |
| --- | --- |
| Midwestern States | Northeastern States |
| Western States | Southern States |
International Science Standards
How to use Standards Documents
Download the PDF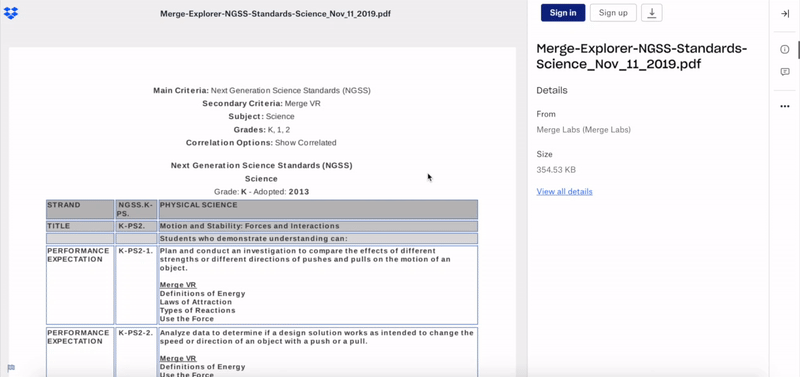 The first thing you should do when using our Standard Mapping Documents is to download them directly onto your device. You can do so by tapping the down-arrow icon to the top-right of the page, then tapping "Direct download".
This will download the full PDF directly to your device.
Search for Key Terms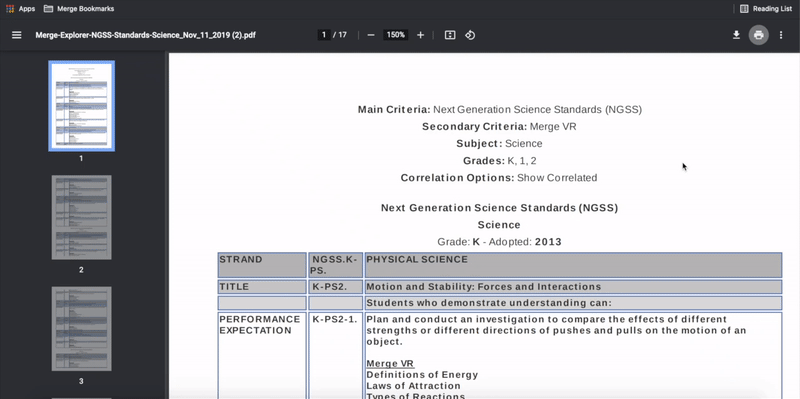 Our Standard Mapping Documents cover the performance expectations from K-8th grade. If you are looking for a particular expectation, you may want to search for key terms using the Find tool (Ctrl F).
Search by grade with a search term like "Grade: 3"

Search for standard using its section (example: "K-ESS2") or its title ("Earth's Systems")
Save a section of the PDF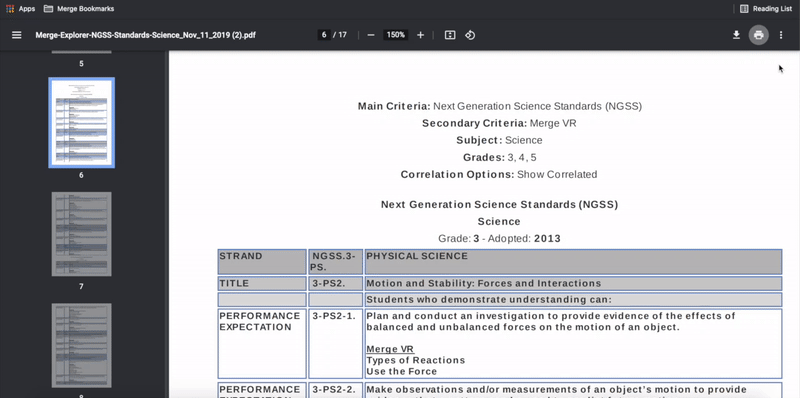 Once you have found the sections of the Standard Mapping Document that you want to use, you might want to save that section as a separate document, so you can easily access it later. For example, you can use these steps to save a new PDF for just the standards for Grade 3.
To do so, we'll be using the Print options to save a new PDF:
Open the PDF and tap the

"Print"

option in the top-right corner.

Instead of a Printer, select

"Save as PDF"

as the document's

"Destination"

.

Select

"Custom"

pages, then input the pages you want to save.
Sequential pages can be separated by a dash, while non-sequential pages should be separated by a comma (e.g. 5-7,10,13)
Tap
"Save"
, then give the new document a name. Tap
"Save"
again to save the PDF.

For our full list of standard mapping documentation see our Standards Alignment Document Dropbox, or if you have any questions about the standards, email our sales team.