Holding Holograms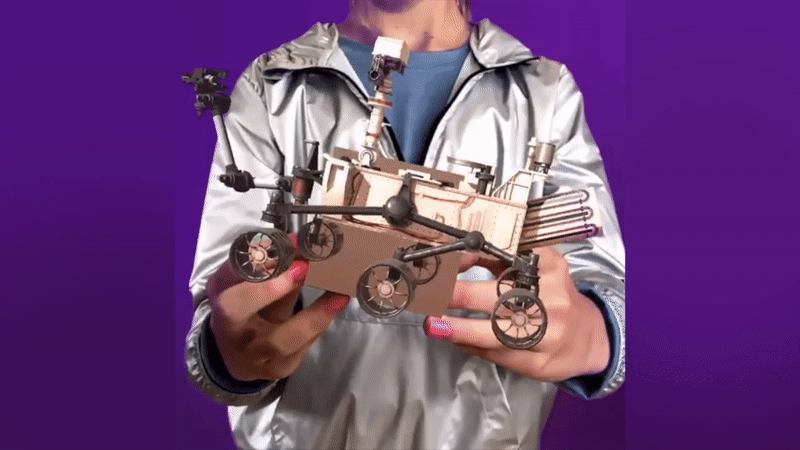 The Merge Cube is the only product that lets you hold virtual 3D objects, also known as holograms, enabling an entirely new way to learn and interact with the digital world! Holding a hologram on the Merge Cube engages both visual and kinesthetic learning, enabling a magical experience that sparks intellectual curiosity and engagement in your students.
In this article, we will show you how to hold holograms by following these four simple steps:

Download the Object Viewer app
Select a 3D Object
Hold a Hologram
Place a Hologram in your environment
Step 1 - Download the Object Viewer App
Object Viewer gives you access to 1,000 true-to-life digital teaching aids sorted into collections, such as Dinosaurs, Engines, Fossils, Human Anatomy, Space Science, and more! Our collections should be familiar, since they're modeled to match what teachers would traditionally use as teaching aids in their classrooms.
Learn how to Download the Merge EDU Apps here.
Step 2 - Select a 3D Object
Launch the Object Viewer app to browse through the various collections of digital teaching aids. Once you have decided on an object to hold, tap on the thumbnail to download it.
Step 3 - Hold a Hologram
When directed, point your device's camera at the Merge Cube, then watch the Merge Cube transform into a digital hologram in the palm of your hand!
Note: The Merge Cube is specifically designed to be fast and accurate, so if you're experiencing performance issues, check out this article about How to Improve Performance.
Don't have a Merge Cube? Learn how to get one here!
Step 4 - Place a hologram in your environment
Use the "Place in the World" feature to put life-sized holograms directly into your room! You can place multiple objects side by side to compare and contrast, or create a unique scene made of many 3D objects.
Learn more about the place in the World feature here.

Now that you've experienced holding a hologram, you can begin a deeper dive into Merge EDU and how our platform can help your students learn science, master STEM and become future ready!
Check out this article about how to use Digital Teaching Aids.
See this article for more information about teaching science with spatial computing.
Check out this article to learn more about learning STEM with mixed reality.