Getting Started
Holding a Digital Object (hologram)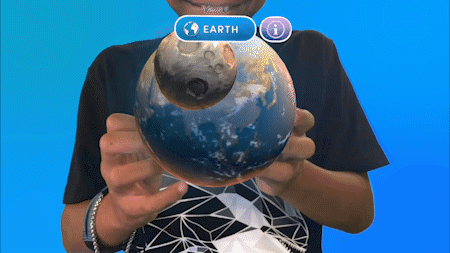 The Merge Cube lets you hold virtual 3D objects, enabling an entirely new way to learn and interact with the digital world.
In this article, we will introduce you to the main steps you should take to view objects on the Merge Cube:
Downloading Object Viewer
Browsing Collections of Digital Teaching Aids
Viewing an Object on the Merge Cube
Here's how to get started holding a digital object:

Step 1
Download the Merge Object Viewer app
Object Viewer is where you will find over 1,000 digital teaching aids designed to be as effective as physical teaching aids for learning.
Learn how to Download the Merge EDU Apps.


Step 2
Launch Object Viewer and browse the collections of Digital Teaching Aids
Our collections should be familiar, since they're created to match what a science or STEM teacher would traditionally use to teach concepts.
Check out this article about how to use Digital Teaching Aids.


Step 3
Swap to "Cube" mode using the dropdown at the top of the screen
There are three ways to interact with the science simulations and digital teaching aids in Merge EDU apps. Simply use the dropdown menu at the top of each activity to switch between modes.
Check out this article to learn more about each of the 3 modes.
Step 4
When directed, point your device's camera at the Merge Cube
Did you know the Merge Cube is the only product of it's kind that lets you hold digital 3D objects, otherwise known as holograms?
Don't have a Merge Cube? Buy one now or download a free paper version.


Step 5
Watch the Merge Cube transform into a Digital Object (hologram) in the palm of your hand!
This is a magical experience and one that will be sure to spark curiosity and engagement in your students.
The Merge Cube is specifically designed to be fast and accurate, so if you're experiencing performance issues, check out this article about How to Improve Performance.



Now that you've experienced the power of holding a virtual 3D object in your hand, browse and hold any of the thousands of digital objects, from anywhere.